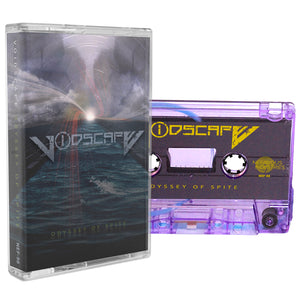 Release Date: March 31, 2023
Catalog ID: NEF-98
Purple tint cassette tape. Edition of 50.
A1 Grief Eclipse
A2 Burden of Breathing
A3 Ludlow
B1 Extinctionborn
B2 The Unsaved
VOIDSCAPE is:
Rob Torres - Guitars & Bass
Mike Ximenez - Vocals
Justin Spaeth - Drums
Engineered, mixed, and mastered by Rob Torres at Frightbox Recording in Passaic, New Jersey. Artwork, photography, and layout by Mike Ximenez.
Ⓟ & Ⓒ 2022 Nefarious Industries.