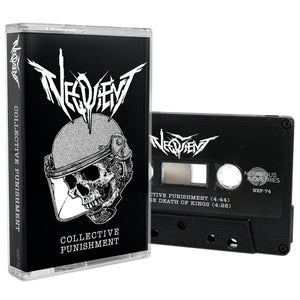 Release Date: November 05, 2021
Catalog ID: NEF-74
Black cassette tape. Edition of 50.
A1 Collective Punishment
A2 Strange Death of Kings
B1 First Casualty (live)
B2 Coins for the Ferryman (live)
"Collective Punishment" and "Strange Death of Kings" produced by Pete Grossmann at Bricktop Recording and mixed by Sanford Parker at Hypercube
"First Casualty" and "Coins for the Ferryman" recorded October 20, 2019 by Alan Sifuentes at Valdosta DIY House and mixed by Patrick Conahan
Mastered by Collin Jordan at the Boiler Room
Artwork and logo by M.G. Miller
All music by Nequient. All lyrics by Jason Kolkey.
℗ & © 2021 Nefarious Industries.