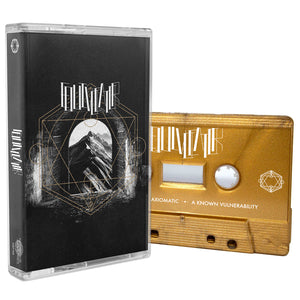 Release Date: September 22, 2023
Catalog ID: NEF102
Limited Gold Metallic cassette tape featuring artwork by Andrew Notsch. Edition of 50.
01 The Angle
02 Axiomatic
03 A Known Vulnerability
Lead vocals written, performed, and recorded by Chris Alfano.
All instruments, programming, additional vocals, and recording by Matthew Lupo.
Mixed by Steven Alexander Ryan and Matthew Lupo.
Mastered by Nicholas Zampiello www.newallianceeast.com.
Artwork and layout by Andrew Notsch www.andrewnotsch.com.
Ⓒ 2023 Special Circumstances (ASCAP). Ⓟ 2023 Nefarious Industries.