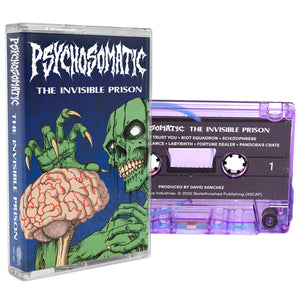 Release Date: August 28, 2020
Catalog ID: NEF-60
Limited edition purple tinted cassette tape with double-sided 7-panel J-card. Edition of 100. Includes Digital Download.
A1 We Don't Trust You
A2 Riot Squadron
A3 Schizophrene
A4 Agents Of Surveillance
A5 Labyrinth
A6 Fortune Dealer
A7 Pandora's Crate
B1 Personality Agenda
B2 Invisible Prison
B3 Serial Killer
B4 Highbinder
B5 Spiral Orthodox
Produced by David Sanchez
Jeff Salgado – bass and lead vocals
Daniel Mills – guitars and vocals
Viktor Hansen – guitars and vocals
Toby Swope – drums
Recorded August & September 2018 in Sacramento, CA
Engineered and mixed by David Sanchez at Riffs or Die
Mastered by Mark Lewis at MRL Studios
Artwork: Jeff Salgado
Coloring: Vincent Pizarro
Layout: Greg Meisenberg
Photography: Michael Alvarez
David Sanchez appears courtesy of Century Media Records
℗ 2020 Nefarious Industries.
© 2020 Skatethrashed Publishing (ASCAP).