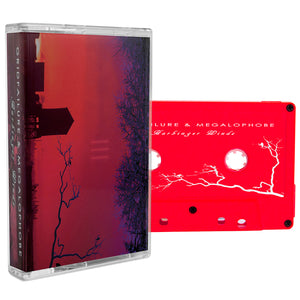 Release Date: September 09, 2022
Catalog ID: NEF-92
Limited windowless red cassette tape with 5-panel J-card. Edition of 100.
01 Tuning For the Inevitable
02 Alterations of Symbiosis
03 A Cadaveresque Breeze
04 Bellows
05 Something Foul
06 Intermittent
07 I Have Friends Up There Redux
08 This Dirge Requires a Murder
09 Burn Pits
10 Harbinger Winds
Engineered, recorded, and mixed by David Brenner and Benjamin Levitt at GRIDFAILURE's The Compound in Rockland County and MEGALOPHOBE's Forked Audio in Brooklyn, the two contribute a wide array of vocals, acoustic and electric guitars and basses, keys and synth, drums and percussion, accordion, theremin, cello, harmonica, and more, with elements of power electronics/effects, tape manipulation, field recordings, and more weaved into the layers.
Two sessions from 2017 would define the entire direction of Harbinger Winds; a live improv jam with Rosa Henriquez on clarinet bore "Alterations Of Symbiosis" and other segments of the album, and a gathering with world renowned trumpeter Mac Gollehon (Duran Duran, Blondie, David Bowie, Onyx) which became "This Dirge Requires A Murder" –Further sessions at The Compound with Mac Gollehon (trumpet and xylophone) and Levitt's brother Rob Levitt (guitar) were conducted. Additionally, the two recruited a sect of friends from across the country to send contributions including vocals and trumpet from Leila Abdul-Rauf (Vastum, Ionophore), trombone from Morgan Evans (Walking Bombs), guitars from Sally Gates (Titan To Tachyons, ex-Orbweaver) and Matt Bacon, organ from Christian Molenaar (Those Darn Gnomes), and piano from Denise Fillion. With these elements scattered throughout the album's ten expansive tracks, the massive closing/title track sees all nine outside collaborators joining Brenner and Levitt in a massive fourteen-minute finale.
Culminating nearly five years of unpredictable progression, regression, erosion, and transformation, GRIDFAILURE and MEGALOPHOBE's Harbinger Winds was finally completed in February of 2022, the cover art and videos for the album created by David Brenner, and the album was mastered by Dan Emery at Black Matter Mastering (Kool Keith, Lost Dog Street Band, Thetan).