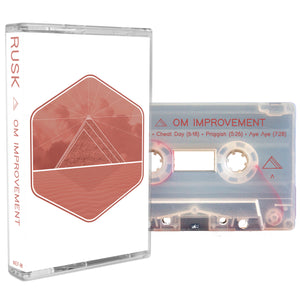 Release Date: July 01, 2022
Catalog ID: NEF-81
Limited run of Frosted Ice cassette tapes. Edition of 60.
A1 Mythomania
A2 Cheat Day
A3 Priggish
A4 Banana Brain
B1 Aye Aye
B2 The Escaping Elk
RUSK is Derek Gaines and Brent Gaines with Ryan Pivovar and Zachary Paul.
Contributions on various songs by Paul Christensen, Patrick Shiroishi, Lex Helgerson, and Jason Adams.
Recorded and mixed by John McEntire at Soma Studios.
Additional recording by Jason Adams.
Mastered by Eric Castillo.
Artwork by Chris Nag.