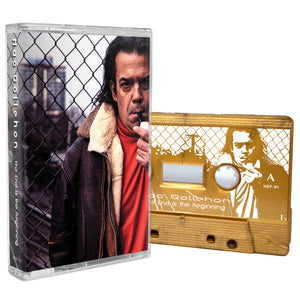 Release Date: February 04, 2022
Catalog ID: NEF-91
Solid Gold Metallic cassette tape. Edition of 50.
A1 As Your World Burns
A2 Enigma
A3 Neon and Gunpowder
A4 Passion for Wrath
A5 Revenge for Brooklyn
B1 Dead Protégé
B2 Bronx Motor Inn
B3 Turn It Up Motherfucker Go
B4 Sackett Street Racket
B5 The End Is the Beginning
Vocals, trumpet, cornet, trombone, drums/percussion, keyboards/synth, acoustic/electric guitars, bass, and field recordings by Mac Gollehon.
Additional field recordings and samples by David Brenner. Written and performed by Mac Gollehon. Conceptualized and arranged by Mac Gollehon and David Brenner.
Engineered, recorded, and mixed by David Brenner Summer/Fall 2021 at The Compound in Valley Cottage, New York.
Mastered by Dan Emery at Black Matter Mastering in Nashville, Tennessee.
Photography by Tyler Adams.
Design by David Brenner.
© 2021 Mactrumpet Publishing (ASCAP). ℗ 2021 Nefarious Industries.