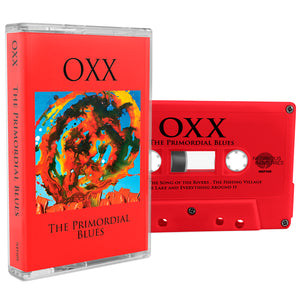 Release Date: August 18, 2023
Catalog ID: NEF105
Limited red cassette tape featuring artwork by Aske A Hvidtfeldt. Edition of 100.
A1 The Coast
A2 The Song of the Rivers
A3 The Fishing Village
A4 The Lake and Everything Around It
B1 The Haruspex
B2 The Flagellant
B3 The Hypostasis
B4 The Primordial Blues
OXX:
Alex Bossen: vocals, guitars, synthesizers, piano, samples, string arrangements
Martin Aagaard Jensen: drums, samples
Anders Frodo S. Mikkelsen: bass
Guests:
Kristine Kier: violin, viola
Emalia Slusarczyk: cello
Adrian Christensen: double bass
Esben Tjalve: piano
Artwork by Aske A Hvidtfeldt. Layout by Greg Meisenberg.
Mixed by Klaus Q Hedegaard Nielsen. Mastered by Brad Boatright at Audiosiege.
Ⓟ & Ⓒ 2023 Nefarious Industries.